Download the Rajshri Food App by clicking on this link:- http://bit.ly/RajshriFood_And
Ingredients
2tbsp of ghee
1 tsp carom seeds
3 shredded onions
1 tbsp fennel seeds
1 tbsp mango Pickle
1/2 chopped capsicum
1 tbsp ginger and garlic paste
tomato puree of 2 tomatoes
1/2 tsp red chilli powder
1/4 tsp of kasoori meethi
coriander and cumin seed powder
250gm of paneer
turmeric
salt to taste
1/2 tsp garam masala
coriander leaves
water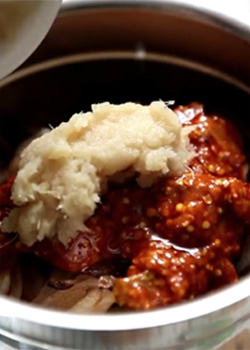 Method
Heat some ghee and add shredded onions and let them caramelized.
Add the onions, mango pickle, ginger and garlic paste, red chilli powder, coriander and cumin seed powder, turmeric and garam masala into blender and make a smooth paste.
Add water if n-eeded.
Add ghee and let it heat.
In pan add carom seeds, fennel seeds, chopped capsicum, onion paste, tomato puree and let it cook for some time.
Add kasoori meethi, water, carrots,paneer pieces, salt to taste and coriander leaves.
Achari Paneer is ready to be served.